Are You Fully Prepared For Self-Publishing?

Publishing your first book is a big deal, especially if you want to do it on your own. You probably have zero experience in the publishing industry (if you do have experience and are reading this article, then you probably know more than you're giving yourself credit for) and you probably have only so much experience in writing. There's a lot that can go wrong.

In fact, I guarantee a lot will go wrong, but that's because you can never fully be prepared for self-publishing. I've self-published several books and short stories now under multiple pen names, yet every time I self-publish I do something wrong. I mess up the blurb a little bit, the formatting, or there's something wrong with the cover.

In some ways, self-publishing is easier than ever. There are sites like Smashwords and Draft2Digital that make formatting books easier than it was in the beginning, but there's also a steeper learning curve. Back in the beginning of self-publishing, almost no one was doing it, so people were able to make money off of books with horrible covers and spelling mistakes. They didn't have to worry about advertising as much because there was so little competition. They could just list one of their books for free and thousands of people would download it automatically. Now a lot more professionals are in the game and the competition is higher, so you need to know more.

So understand you will never fully be ready for self-publishing and reassure yourself that this is okay. It will be a learning experience, every day, even years down the line because the competition is always changing, but also understand that it is possible to do things that will make self-publishing easier and make mistakes happen less often.

Here are a list of things you can do to make yourself more prepared for self-publishing.

Self-Publishing Check List - 10 Things You Can Do To Be As Ready As Possible

1.
Make sure self-publishing is what you really want to do.
Don't view it as some kind of compromise to your real dream or consolation gift for trying. Self-publishing is hard, it's a lot more work than traditional publishing is. You have to write fast, hire your own people, and run your own ad campaigns. Everything is in your hands. It's not something you do casually, it's something you commit to. Your books are not going to sell unless you feel a strong drive to publish them this way and even then, they still might not sell.
Don't self-publish if you'd rather publish a different way, you will regret it. Just start a new book and try to get that book published the way you'd prefer. A lot of times people get contracts and once they grow a relationship with their publisher based on one book, the publisher is suddenly interested in publishing previous ones they rejected before.
So just shelf any book that you aren't ready to self-publish and that has been rejected by traditional publishers. It's not the right time with that book, but the right time will happen one day if you keep trying.
2.
Read blogs (and social media posts) written by people who have self-published their novels.
Blogs aren't as popular in recent years as they were a few years ago, but there's a lot of them that still exist. To get an idea of what self-publishing is like and the challenges people face who self-publish, it's good to follow the journey of someone who is already doing it because they'll talk about these things.
Avoid articles about self-publishing posted on large websites like Huffington Post and Forbes. They have agendas. They want to attract people to their articles, get more views, and make more money. They don't care about educating people. they just care about people reading what they write, whether it's true or not.
Most self-published authors, especially the more minor ones, will tell you the day to day issues that come up when it comes to self-publishing. They'll talk to you about what it's really like, the things you need to know, and what their experiences are. You don't need to read about some guy making seven figures on self-published books, you need to read fellow authors talking about how they were able to increase their sales that month and what websites worked for them. It's cool that some guy is making a lot of money self-publishing his books and it's cool that he was interviewed on Huffington Post, but reading articles doesn't help you know how to do the same.
3.
Read books written by people who have self-published their novels.
They know a lot and can help you. Be careful about reading books that are obviously a gimmick. Like,"How to become a NYT Bestselling Self-Published Author" written by someone who is not a Self-Published NYT Bestselling Author. It's better to read a book about self-publishing by a relatively unknown self-published author who obviously has actual self-published books than it is to read a bunch of promises written by someone who has no idea what they are talking about.
In the publishing industry, there is always people trying to make a quick buck off of aspiring authors, so don't fall into their trap. It's best to listen to self-published authors who have sold a ton of books, authors who have done things like make it to the New York Times Bestseller list, but it's better to listen to a small self-published author with little success than someone who is out to make a quick buck off of aspiring authors and has zero experience.
4.
Join Self-Publishing Groups.
This can be online or in person. Authors need each other, especially self-published authors because we don't have a publishing company backing us. We need each other for obvious things, like critique partners and advice. But there's also less obvious things, like sharing opportunities with each other and working together to get more exposure that will fall into your lap if you regularly connect with other self-published authors. They also might share your releases or you might get featured on their blogs.
Authors have a giant network of information and opportunities being passed around between us. It's an important resource to tap into, so make some social media accounts, go on different forums or sites like Wattpad and socialize. Not all your experiences will be good, but the friends you will make will help you immensely.
5.
Hire an editor
. This is especially important if this is your first self-published books. Most writers have excellent skills when it comes to spelling and grammar. Most of us look over our book a million times. There are still a bunch of typos and mistakes anyway because our eyes glance over our mistakes. Our brains "know what we meant" when we typed something wrong, so they block it out as unimportant. Those mistakes need to be corrected or people will be extra critical of your book.
You can't hire the same amount of editors as publishing companies (probably.) They go through several rounds of edits, each editor looking for a different thing. If you're curious about what the different types of editors are and what each of their jobs is, here's an article that explains it that I recommend: http://www.novelpublicity.com/2011/11/finally-an-answer-heres-the-difference-between-line-copy-and-content-editing/
www.novelpublicity.com/2011/11/finally-an-answer-heres-the-difference-between-line-copy-and-content-editing/
Since you're probably going to only be able to afford one round of edits, it's most important to get a Line Editor. This person will correct all your typos, spelling mistakes, and punctuation problems. While Content Editors can be amazing, you can get some critique partners for free to look at your story and make sure it makes sense. They won't be as good as Content Editors, but they should be able to give you decent advice. On the other hand, it's almost impossible to find someone who understands grammar as well as a Line Editor, even if you know a bunch of people who are excellent at grammar. English has too many rules.
So make sure you're finished with your entire manuscript and then hire a Line Editor. You can't make any changes to the story's content after your Line Editor fixes it or you'll have to hire the Line Editor again. It should be the last thing you do.
6.
Buy A Book Cover.
Do not make your own (unless this is an actual specialty of yours), even though places like Amazon have programs that allow you to design your own book cover. It won't look as good as if a professional makes it. If you're low on cash (like me!) then you can search for premade e-book covers. They might not be exactly what you are looking for, but a lot of them are beautiful and they are much cheaper than customized book covers. If you have the money, though, a customized cover with the right cover artist can be worth every penny.
7.
8.
9.
10.
Powered by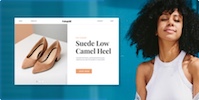 Create your own unique website with customizable templates.