What Are Plot Bunnies?

If you watch movies or television shows with writers in them, the writers will usually go on some big, dramatic journey to find themselves, so they can come up with an idea for their next bestselling novel, type it out in a couple of days, and make a lot of money. The idea is very glamorous sounding and is nothing like the real life of a writer.

They don't say the truth about what it's like to be a writer because the truth is boring to anyone who isn't a writer. We don't go on big spiritual awakenings every time we need to write something new and we don't make a ton of money, even when we are bestsellers.

The reality is that coming up with an idea is the easiest part of the whole process. We spend most of our time, neglecting loved ones as we constantly write and market our work to readers. Every day or almost every day is spent writing for hours, we work all the time, just like any other job. We also have to think like business people constantly. What will sell? Who will buy a certain type of book? How can I make the idea catchy and interesting?

Writing is rarely about the ideas you come up with. It's about your execution of those ideas, how you bring them to life, that separates you from other people and makes your books decent.

Ideas are abundant. They come in waves all the time. In fact, they come more often than you'd like them to, especially the more you write. When you have to focus on one project and completing it because you have a deadline, at least one idea for another story is probably going to enter your brain at the same time. It's going to be a new, shiny idea that demands that you write it. It's tiring finishing your old project. The longer you work on one project, the harder it can get sometimes. So your brain tries to convince you to write something fresh, something new.

These are called plot bunnies. Think of new plot ideas hopping around in your head and you will get an idea of where this name came from. Ideas are not hard to come by. It's actually hard to keep up with them because they come so quickly and frequently, plus it takes so long to write them all out to completion.

How To Handle Plot Bunnies

It's good to have news ideas. Plot bunnies aren't bad, they just have to be controlled. They keep us going as authors, keep up writing, eager to finish our current projects so that we can go on to something new.

But they are also dangerous because they can be distracting. They can make it impossible to finish novels because you'll be writing one and they'll distract you into working on another one instead. If you try to write every plot bunny out as soon as it pops into your head, then you'll never be able to complete a novel.

So you can't always give in to them. You have to be disciplined and finish whatever you are currently working on first. The problem is, some plot bunnies are amazing ideas that you don't want to lose and we all only have such a good memory. It's so easy to forget cool plot or dialogue ideas that pop into our head.

What you do, to handle plot bunnies and to keep from forgetting them, is to open a new word document and save it in the same file as your other stories. You can't type out the whole plot bunny, but you can make an outline of it, so you remember, for later, when you need to use one of those plot bunnies to make a new story. After you are done, go back to working on whatever it is that you need to complete. That way you can keep working on your current work in progress until you are done with it, but also not forget your plot bunny. Writing it down also keeps it from hopping around as much in your head because you got the idea out and wrote it down.

Powered by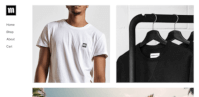 Create your own unique website with customizable templates.