"Show, but don't tell" is a phrase you are going to hear over and over again, when you are writing and when you are being critiqued. What does it mean?

"Show, but don't tell" is the difference between reading a dry history book or actually being a part of a historical event. One is a description of something, the other is an experience. There are always aspects of the world around your main character-the setting, political climate, and their past-that effects the story. Whenever possible, do not explain those aspects, make the reader discover it for themselves.

For example, let's say you're writing a fantasy novel. In your fantasy world, let's say that anyone who practices death magic (necromancy) gets killed. Let's say this is an important point to your story because your main character practices death magic.

You can say all of this directly in the book in a sentence or two, something like,"The main character practices death magic and because of the law in her land, she is at risk of being put to death. Death magic is illegal." That would be telling. You're directly explaining the situation to the reader, which is fine, but it's also boring, so they might forget. By telling the event, rather than showing it, you've made the detail seem unimportant in the reader's mind.

---
What is better is to show the reader these truths. Let them experience it and actually feel how dangerous the entire situation is. You could maybe show the main character practicing death magic by making it an entire scene. Describe her summoning a demon, how the ritual is performed and how much she must sacrifice in order to do it. Describe how she slowly loses control of the demon and realizes she's in over her friend. Her friend, who warned her not to do this, and came with her, starts to get killed by the demon and the authorities, noticing something was off, having followed the two girls, burst inside and the main character must run for her life.

People read books because they want to experience something new and different. They want to live an imaginary life through someone else's eyes, so give them a journey, not a lecture. A lecture is telling someone how it went, a journey is showing it to them.

Showing is about emotions. Telling is about logic. You may understand the situation logically when someone tells it to you, but you can't feel it. You didn't make it your own. You didn't live it. Emotionally impactful stories are the ones people remember. I'm not talking about stories that make people cry. That's just one emotion. You want your reader to feel a wide range of emotions-elation, victory, defeat, depression, anger, fear, their heart pounding as they sit on the edge of their seat.

There are times when you shouldn't show things, when you should only tell. You should only show things that are important, you can tell things if they are unimportant. If you show too much you get bogged down with too many descriptions and too much details. Like, if the characters get into a car and drive away, you don't have to show that because it's probably unimportant. What's important is what happened before they left and probably what happens after they arrive at wherever they need to go next. You don't have to describe the car in detail or say how each character opened the door and got inside the car. You don't have to talk about the worn leather of the seats or exactly how the stick shift moves or how many cars passed by in the rear view mirror before they were able to back out, unless it's all relevant to the story in some way. It's one thing if the main character is obsessed with cars and maybe sells them for as living or races them, but if they're just an average person and this is just a normal scene, don't get caught up in the details.

Descriptions are very important for showing and not telling. Descriptions are rarely about the thing you are actually describing. They are about the mood in the room. If it's spooky, then your description should be creepy. This is how you show the reader that this is a creepy area and that something creepy is happening. It's much better to describe the room as "dim and so quiet, I could hear the floorboards creaking" than it is to say "this room is creepy." People feel the first one. You told them what to feel with the second. The first sentence is showing, the second is telling.

Descriptions are also about the main character and their perspective on the world. Your descriptions should show a lot about them and their personality, so you don't have to tell it. Like a character who likes to cook might notice someone's vegetable garden and think about all the great stuff they could make with that food that is growing once it has ripened. While a character who hates to cook might not give it a second thought or even see it in the first place. A character's personality will cause them to view the world differently than other people with other personalities.

You can also sometimes show and not tell through dialogue, but this is something that needs to be done carefully or it turns into telling again. No character should be lecturing the other one. It should be a lively, interesting, entertaining discussion with character development everywhere, so the reader doesn't even realize all the information you are giving them through the characters' conversation.

I think the reason why a lot of new authors tell instead of show is because they get impatient. They have all these great ideas for their book and they want to fit them all in. They cram them inside the beginning, feeling like the reader must understand the entire story now and everything about the characters and their world or they won't get what is happening. While in reality, readers want to discover your plot slowly. Stories are supposed to be more like a rose blooming. First, all you have is the bud, but slowly the petals spread and it grows, revealing a little more of itself at a time, until it has fully bloomed and become something so beautiful. If you write it this way correctly, your story will make perfect sense to the reader and be emotionally impactful as well. It doesn't have to be confusing just because they don't know everything. You give them only the information they need to know right now and then a little more with every scene, just enough for them to understand what is going on and to progress the plot.

"Showing, but not telling" is a rule that takes a lot of practice to master. Lots of writers struggle with it, even well into their career. Take it slowly and try not to explain things in your story. Try to have the reader experience them whenever possible. Try rewriting some of your scenes so that you're showing more and telling less. See if it improves them. Slowly, over time, it will come more naturally to you.

Powered by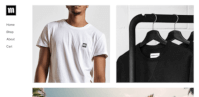 Create your own unique website with customizable templates.