---
---
Writing Basics

---
---
Genre Writing

---
---
Critiquing And Editing

---
---
Publishing

---
---
Marketing And Social Media

---
---
Bonus Articles

---
---
MORE ARTICLES COMING SOON!

---
---
Who Am I?

---
Hello! My name is E.B. Black and I've been writing both fiction and non-fiction seriously for over a decade. I have several novels published under multiple pen names, including this one. I talk to authors both big and small every day, some New York Time Bestselling Authors, some more niche authors. I've learned a lot about the publishing industry and the business through my years of experience and I'd like to use that knowledge to help some beginning authors.

In this industry, there are lots of different expensive classes you can take to learn the art of being a good writer, about marketing, and publishing, but I remember when I was just a beginning authors and didn't have that kind of money. I scoured the internet, devouring every tutorial I could find on what makes a good book, how to write, and how to get published. I thought it would be nice, since I have a lot more experience now and beginning writers sometimes enjoy reading my blog, to cover some of the basics on a website instead that you can read for free.

I hope you enjoy my site!

---
Powered by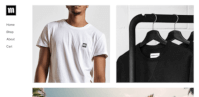 Create your own unique website with customizable templates.